We're sick of seeing folks die as a result of they refused to take the vaccine
The Delta variant wreaked havoc across the country in August. And the virus was particularly devastating in the southern United States. People in this deep red area have refused to receive the vaccine in large numbers.
Florida has become one of the global epicentres of the pandemic. And Governor Ron DeSantis doesn't seem to want to do anything about it. However, the doctors and nurses are fed up with treating the unvaccinated.
During a recent appearance on CNN, Florida ICU doctor Ahmed Alhaddad told Pamela Brown, "We get frustrated because we're tired of seeing people die and suffer because they haven't taken a vaccine. The vaccine has been available since December 14th. And it's readily available. Over 350 million doses have been administered in the United States. And we're tired of telling families that their loved ones won't make it. "
Florida Intensive Care Unit Director: We're sick of watching people die for refusing to take the vaccine https://t.co/x0UxiLxeWR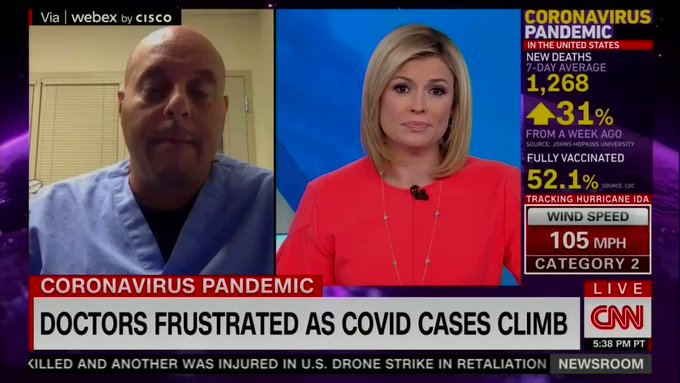 The director of the intensive care unit continued:
"We don't have a single patient in the intensive care unit who was vaccinated, and we haven't had a single patient who died from the vaccine. It's even harder when your friends are. I now have a patient who is the father of one of my son's classmates. And he is not expected to make it. He wasn't vaccinated. And I also have a nurse in the intensive care unit who just gave birth to a baby and didn't take the vaccine because she didn't know if it was safe or not. "
Todd Neikirk is a New Jersey-based policy and technology writer. His work has been featured on psfk.com, foxsports.com and hillreporter.com. He enjoys sports, politics, comics, and spends time with his family on the waterfront.