Biden unleashes mayhem at Fox by exposing the community's vaccine tips
Fox News expresses outrage but on the air does not admit that Biden is telling the truth about his mandate in the vaccination record.
Video:
Every hour of Fox News is outraged by Biden's speech, but they never deny they have a vaccine mandate. https://t.co/X71dEFJi0U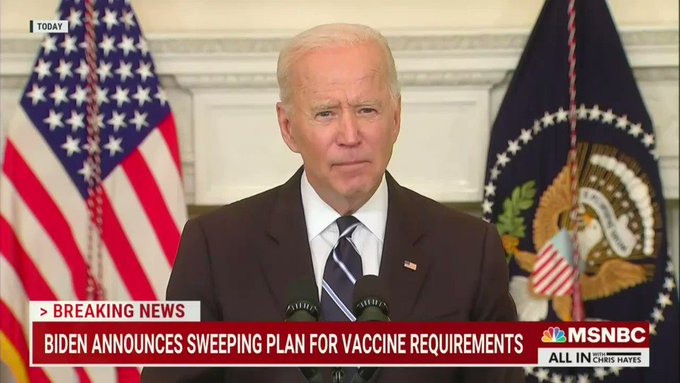 Biden said: "My job as President is protect all Americans. I'm announcing that tonight the Ministry of Labor is Development of an emergency rule to Require all employers to use 100 or more employees that together employ over 80 million people Ensure workers their workforce are fully vaccinatedr shows a negative test at lEast once a week. Some of the biggest companies already need. This united airlines. Disney. Tyson Foods, et aland even Fox News. The bottom line is we're going to protect vaccinated workers from unvaccinated colleagues. "
Fox News has vaccinated every host and required that all employees disclose their vaccination status
About AdWeek:
The company is now asking all employees to upload their vaccination status to its Workday finance and HR system. The network says this is being done "for spatial planning and contact tracing purposes in conjunction with the DCD / state city health and safety guidelines".
Masks remain optional for Fox News employees who have been vaccinated, but are "highly recommended" in public areas throughout the property.
Fox News is already implementing Biden's COVID plan
Fox News has a mandatory vaccination record and made life difficult for its unvaccinated employees, steps in the same direction as Biden's speech attacking them.
Fox News vaccinated its hosts and other staff on camera / in the studio, but continues to lie to the unvaccinated. Watching Fox presenters stumble around trying to cross the line between outrage and not telling viewers the truth about their own vaccination status is entertaining.
Biden caused a mess on Fox News by revealing the truth to the country about their hypocrisy.
Mr. Easley is the managing editor. He is also the White House press pool and congressional correspondent for PoliticusUSA. Jason has a bachelor's degree in political science. His thesis focused on public policy with a specialization in social reform movements.
Awards and professional memberships
Member of the Society of Professional Journalists and the American Political Science Association